7 construction-friendly features that could turn an Engineering Document Management System (EDMS) into a competitive business advantage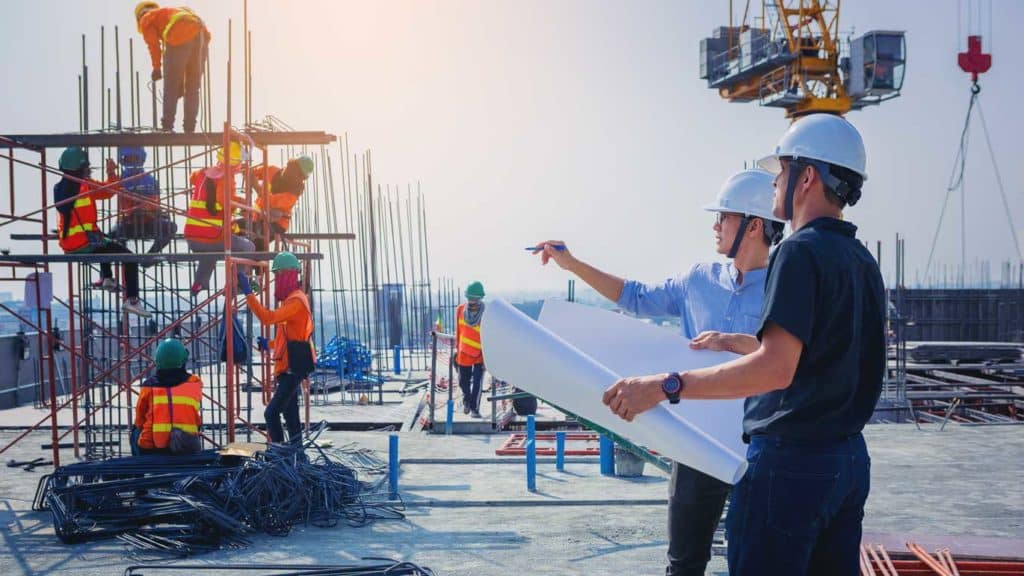 Why you need a construction-aligned EDMS.
An Engineering Document Management System (EDMS) is a software that tracks, manages and stores digital documents, usually online or in 'the cloud' and usually with remote access via cell phones and tablets. What makes the modern EDMS a must-have for an engineering organization is that not only can it do everything a really good human document controller can do (and faster, at lower costs, without human error), it can take the burden of routine work off other roles like quality manager, engineering head, administrators, site managers, project managers, project heads, and so on.
For example, an EDMS designed for construction projects can manage the creation, sharing, updating, and release of documents according to the company's Quality Management System (QMS), that is, the company's preset procedures and workflows. In other words, the QMS will be followed by default, without any effort to enforce it.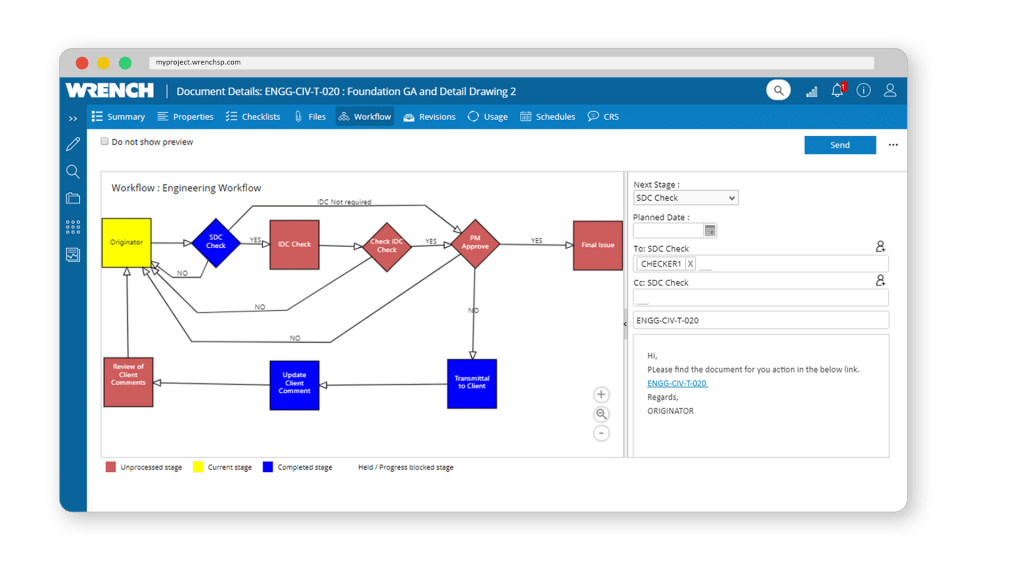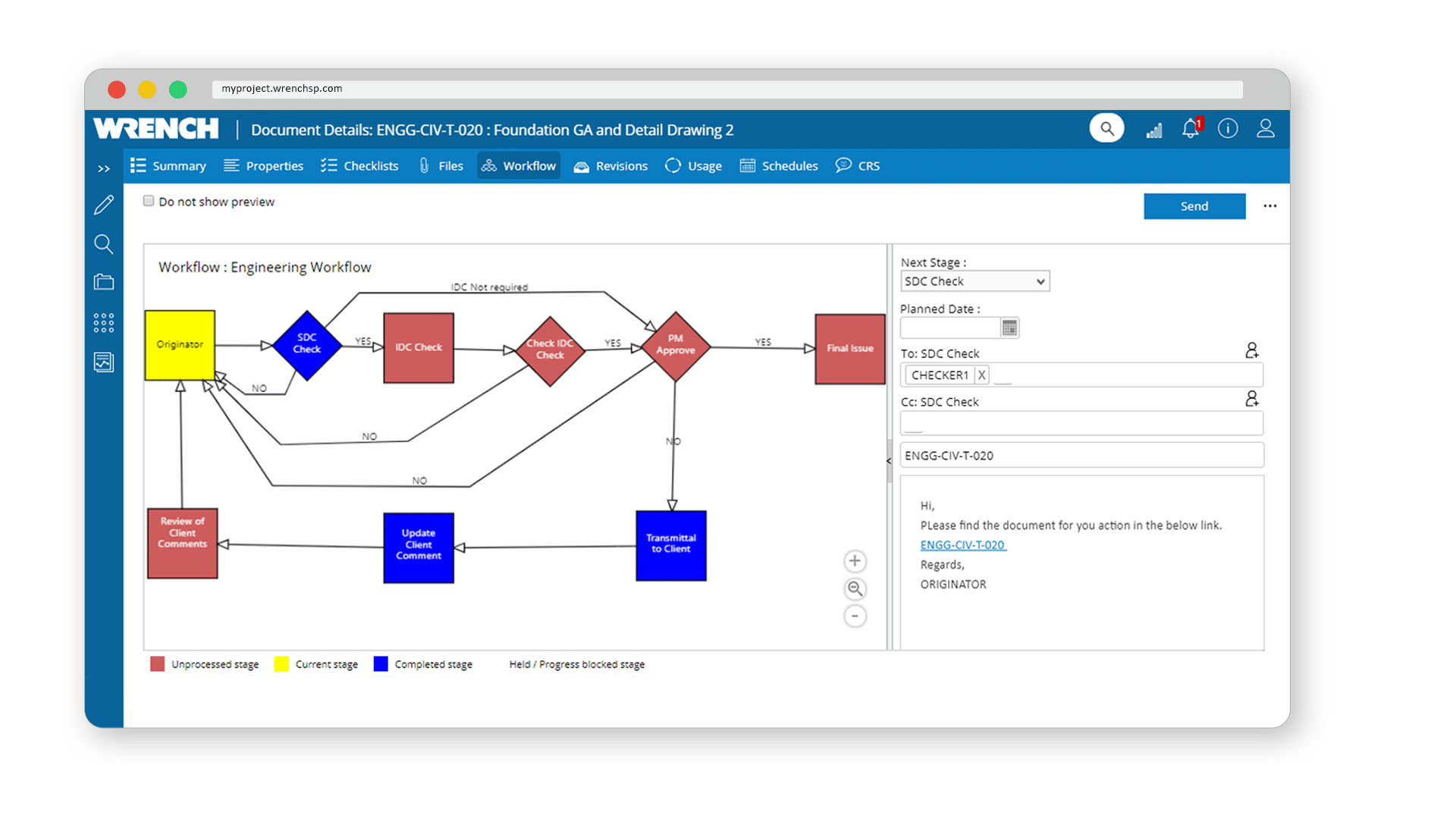 What to look for in a construction-aligned EDMS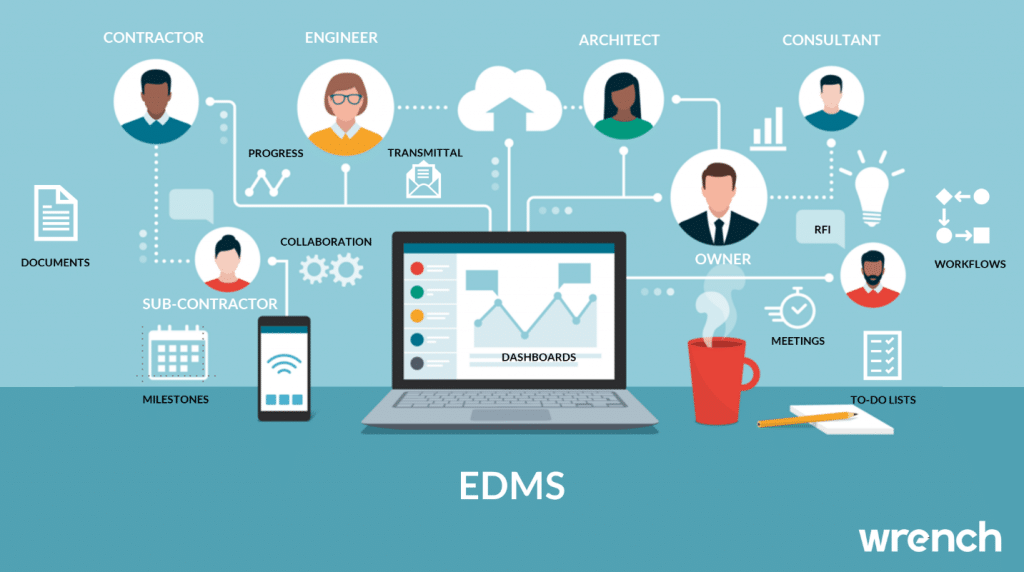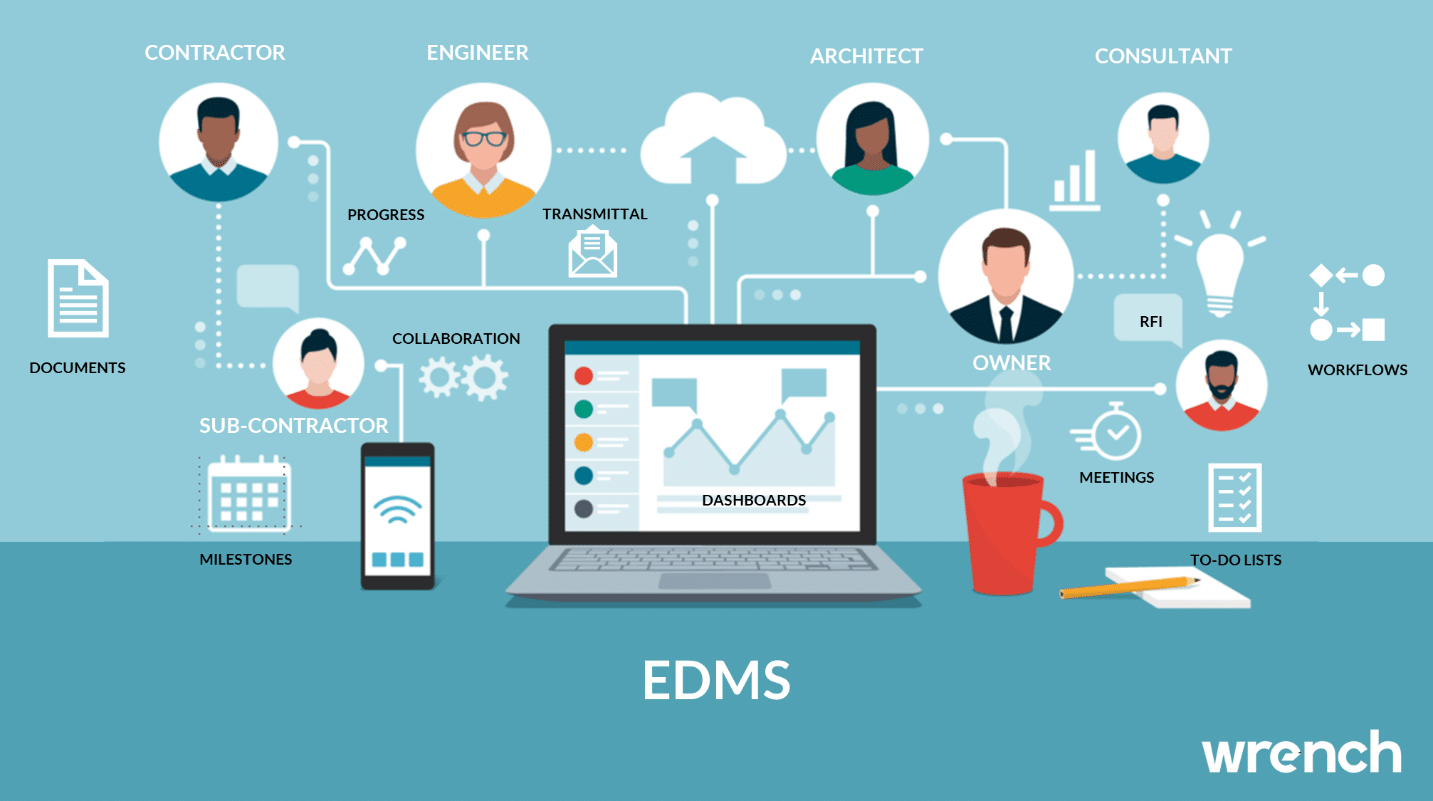 Want a system that will hit the ground running?
Plug right into your company's operations?
Connect all your teams and partners without lengthy configuration and reconfiguration?
You want an EDMS. Not just any EDMS – one designed specially for construction projects.
Power Steering for your construction project. Look for these 7 micro-features* in your EDMS.
1. Native file management
What it is: The ability of the EDMS to maintain native files and comment files.
Why you need it: Your design files are stored in proprietary file formats which can be opened only with specific software which may not be available with everyone in the team. In an EDMS, the system maintains a separate copy of the design file in a commonly-used file format (automatically generated by the EDMS software) – so the file becomes easy to open, share, comment by anyone.
Example: When John (designer) sends an AutoCAD drawing file to Lucy (reviewer) through EDMS software, the software generates a PDF copy of the DWG file and attaches it along with the original so that Lucy doesn't have to download the file and open it in AutoCAD; she simply opens the PDF using the inbuilt viewer, reviews the drawing, and adds her comments and mark-ups.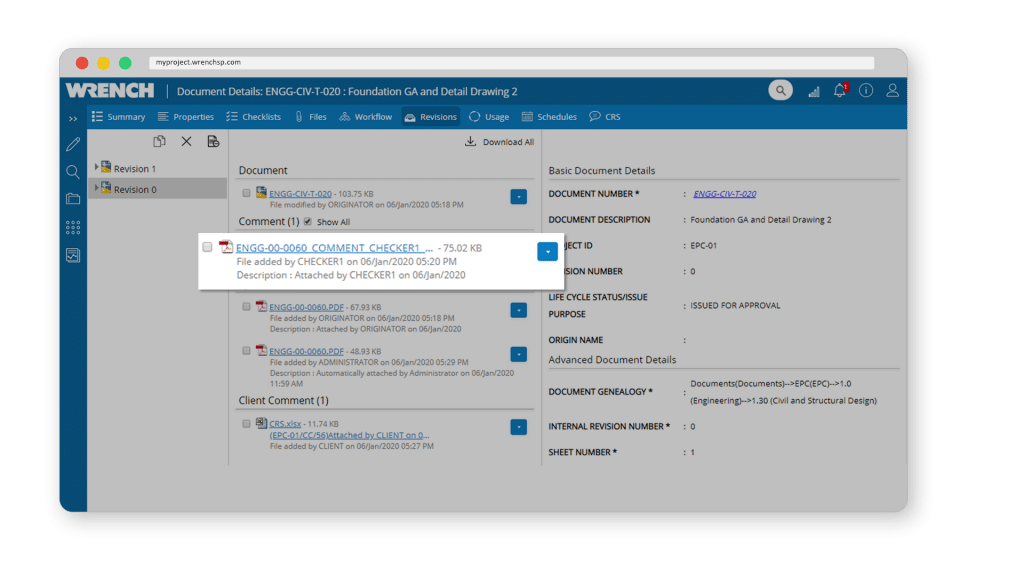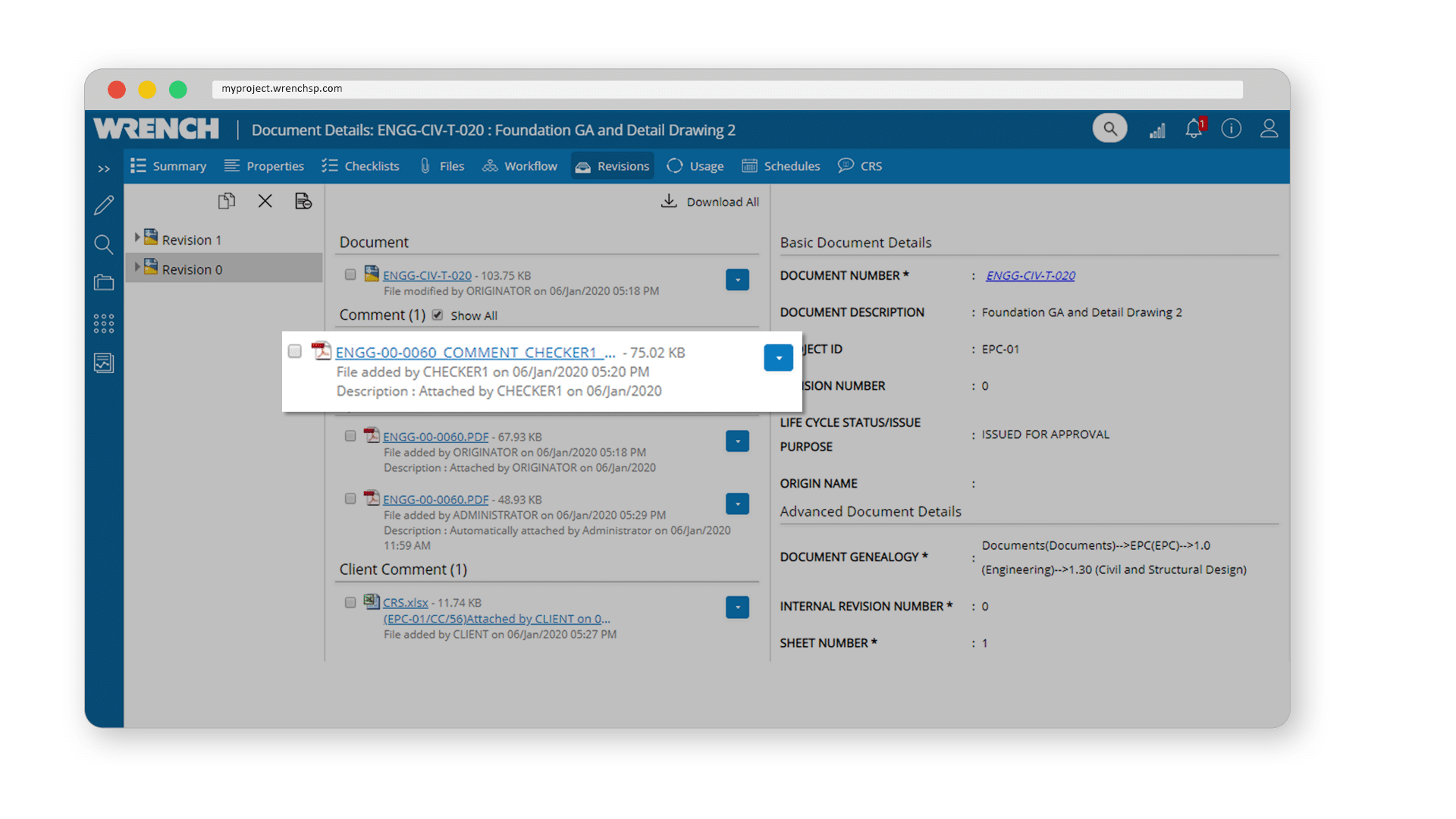 2. Collaborative commenting
What it is: Simultaneous commenting by multiple people and automatic generation of a consolidated Comment resolution sheet.
Why you need it: When multiple reviewers work on a design, you need to capture everyone's comments, manage any duplicates, and combine all the feedback into a final document. (This is a tedious and time-consuming effort, and it doesn't stop there – you later need to verify that the comments are incorporated in the next revision).) With a good EDMS you could allow all reviewers to simultaneously review and comment on a document with complete transparency on each others' comments. The same system would also eliminate duplicates and merge or append all the comments.
Example: John (designer) sends an AutoCAD drawing file to Lucy, Mia and Chloe (reviewers) through their EDMS. All of them open the drawing in PDF format and start reviewing it while being able to see each other's activities in real-time. So redundancies are avoided. The EDMS then stores the comments separately as a list to which John can refer while working on the revision.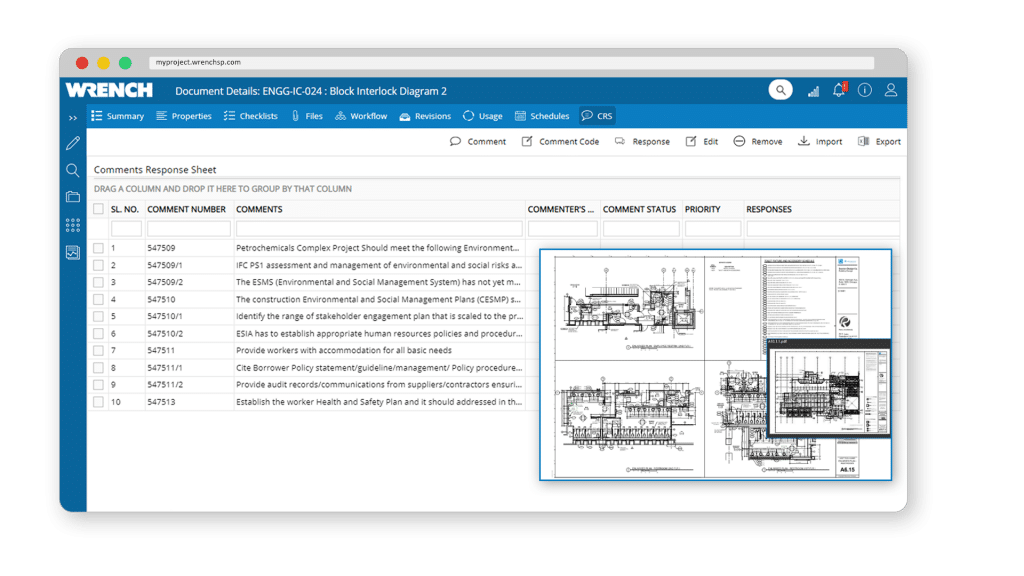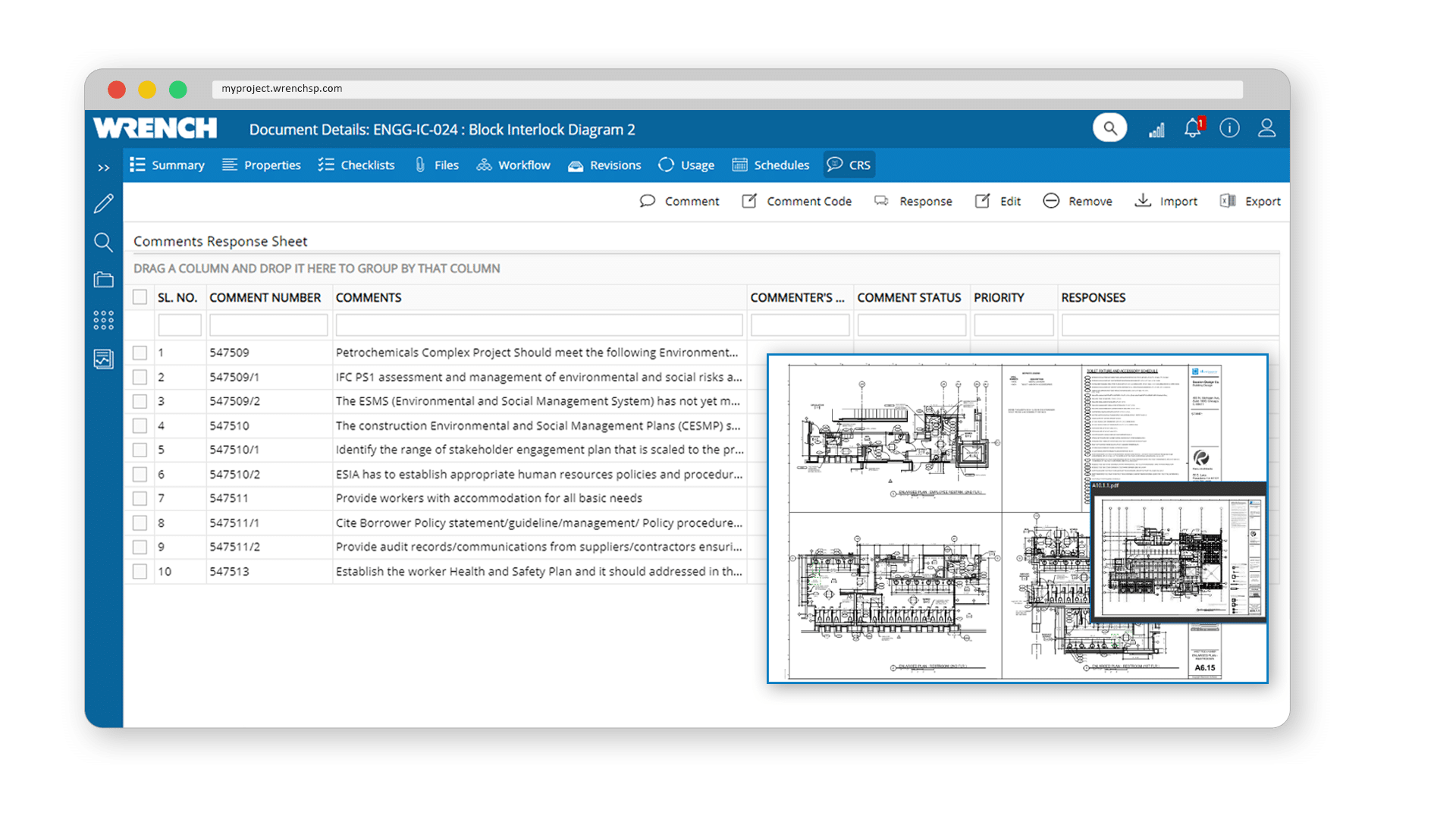 3. Document progress tracking
What it is: Capturing the progress of the document as it is processed through the workflow, and generating S-Curve and EDDR reports.
Why you need it: A design document is issued for construction after going through several developmental milestones (with deadlines) and the actual progress of work is divided across these milestones.
Do your managers spend way too much on damage control?

Outsource the routine work to your EDMS and free up expensive man-hours for high-value work.
There may be tens of thousands of documents in a construction project and manually identifying where exactly each of these documents are with respect to the milestones is impractical. An EDMS lightens the manual load, or eliminates it completely.

Example: Andy (project manager) defines the work process for preparing drawings as: a design is 50% complete when it is sent to reviewers and 100% complete when the reviewers approve it. John (designer) prepares a design and sends it to Lucy for approval through the EDMS system. Curious about the progress of work, Andy directly logs in to the system and can see that the design is 50% complete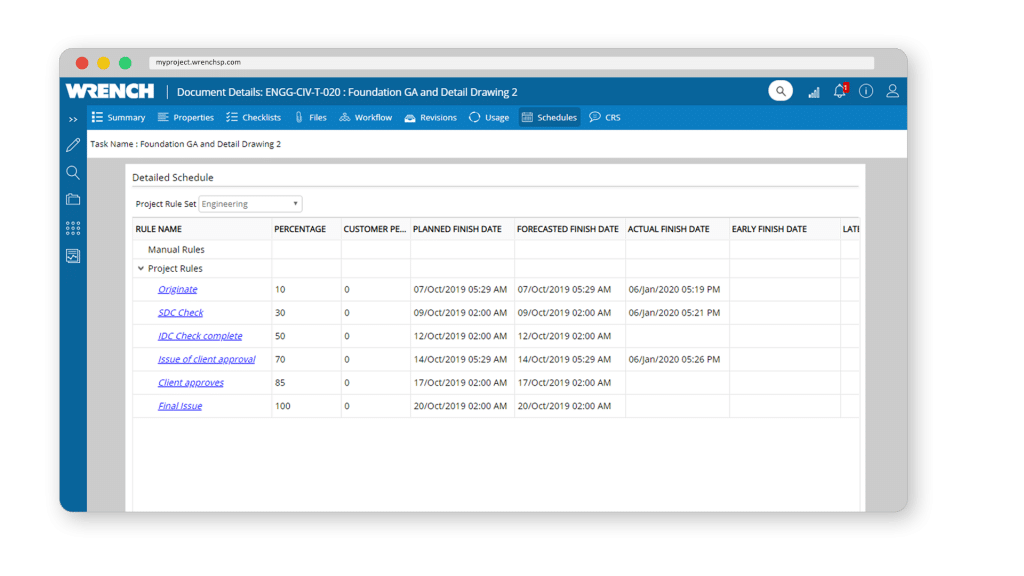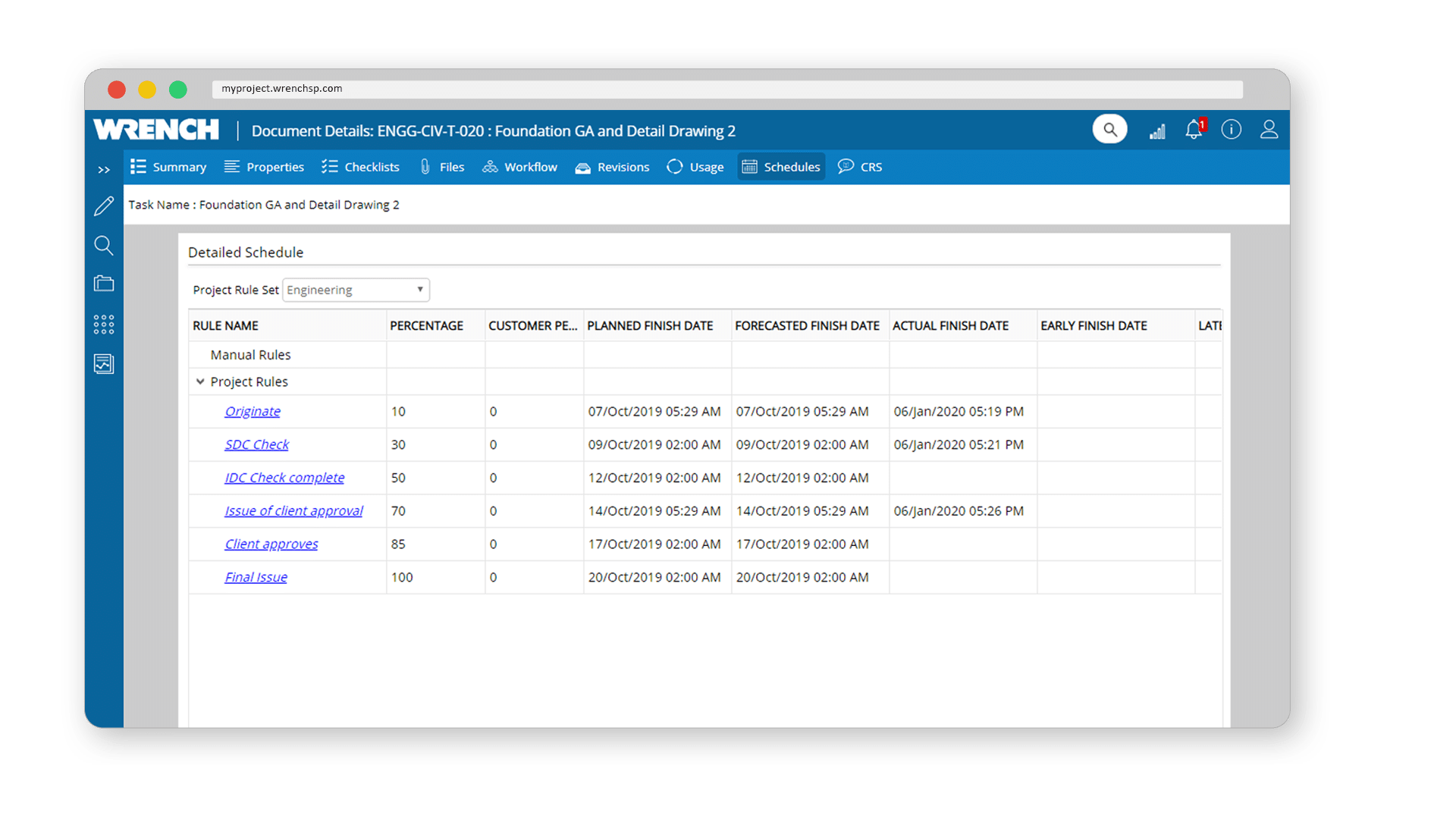 4. Auto Notification
What it is: Getting notified about tasks and documents not progressing as per plan.
Why you need it: There are several reasons why designs don't get completed on time. Sometimes just being reminded of an upcoming task is enough to ensure its on-time delivery but when delays cannot be avoided, promptly notifying other stakeholders can minimise the damage caused by the delay. An EDMS provides those reminders and notifications.
Example: John (designer) is supposed to provide his design to Lucy (reviewer) the next day. He receives an email from the EDMS system reminding him of this. If he fails to deliver the design on time, the system sends another email re-notifying him about the pending task and at the same time sends an escalation email to Andy (project manager). Andy then works with John to get the design completed quickly.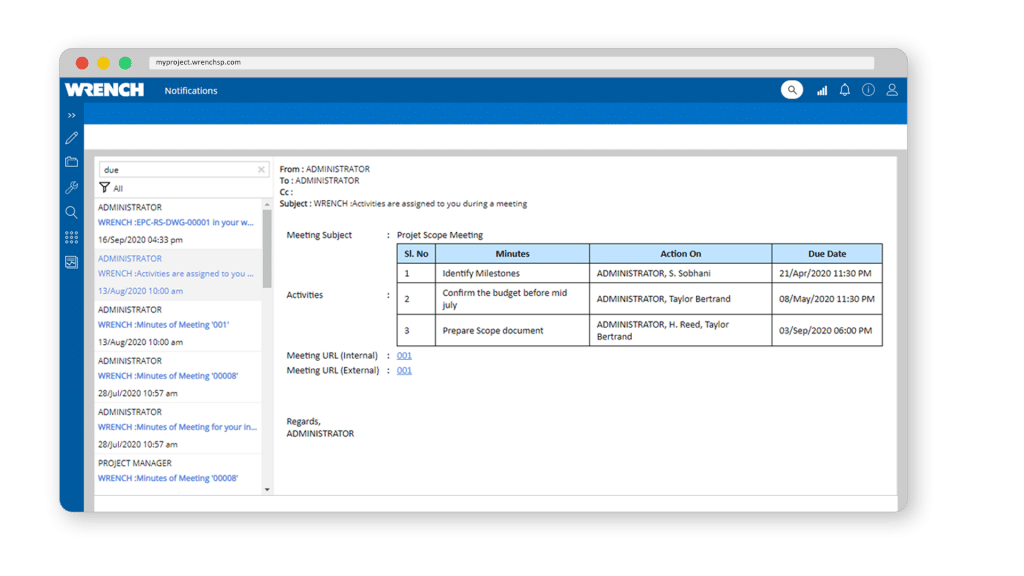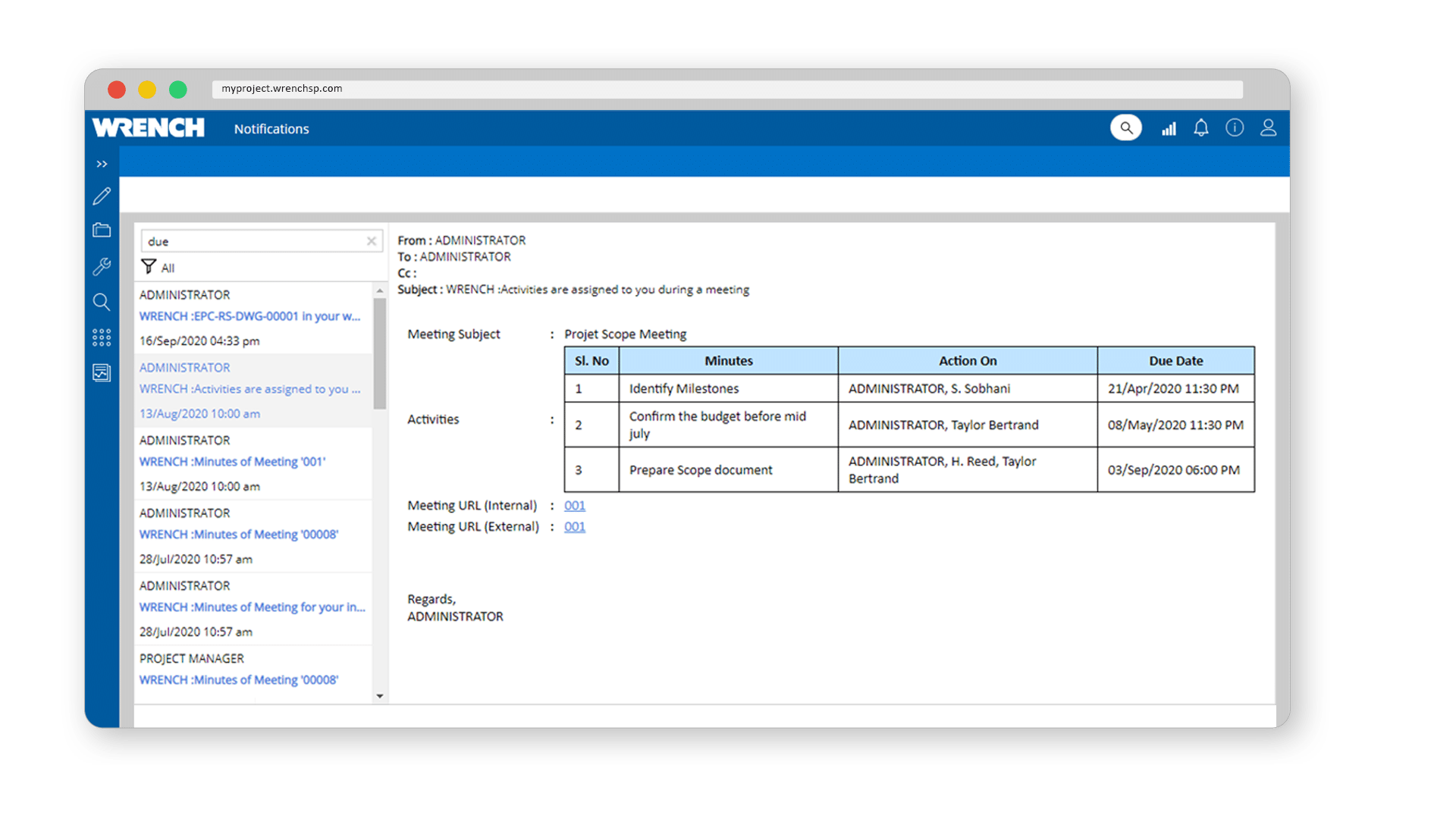 5. Client and Vendor document handling
What it is: Online submission of documents by vendors as per schedule, and submission of documents to client through transmittal.
Why you need it: Capital projects employ thousands of vendors. There are complex connections and inter-connections between each vendor and between the vendors and the owner, contractor, and consultant. Managing the feedback loops between all these parties (questions, answers, reviews, approvals etc.) is critical to a project's success, but without an EDMS it becomes a tedious and inefficient task, very prone to human error.
Example: Tim (document controller) wants to send a document already approved by Andy (project manager) to the client for the latter's approval. In the EDMS, Tim simply selects the documents and clicks on a 'transmittal' or 'send' button, because the EDMS was set up to automatically generate a covering email (prefilled in the project-specific format) before attaching the documents and sending (transmitting) to the client.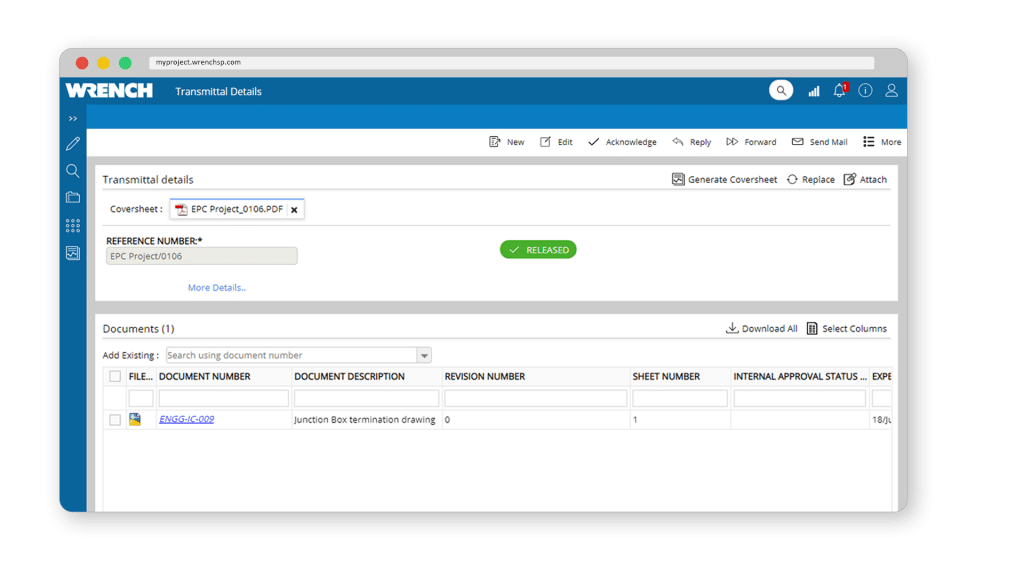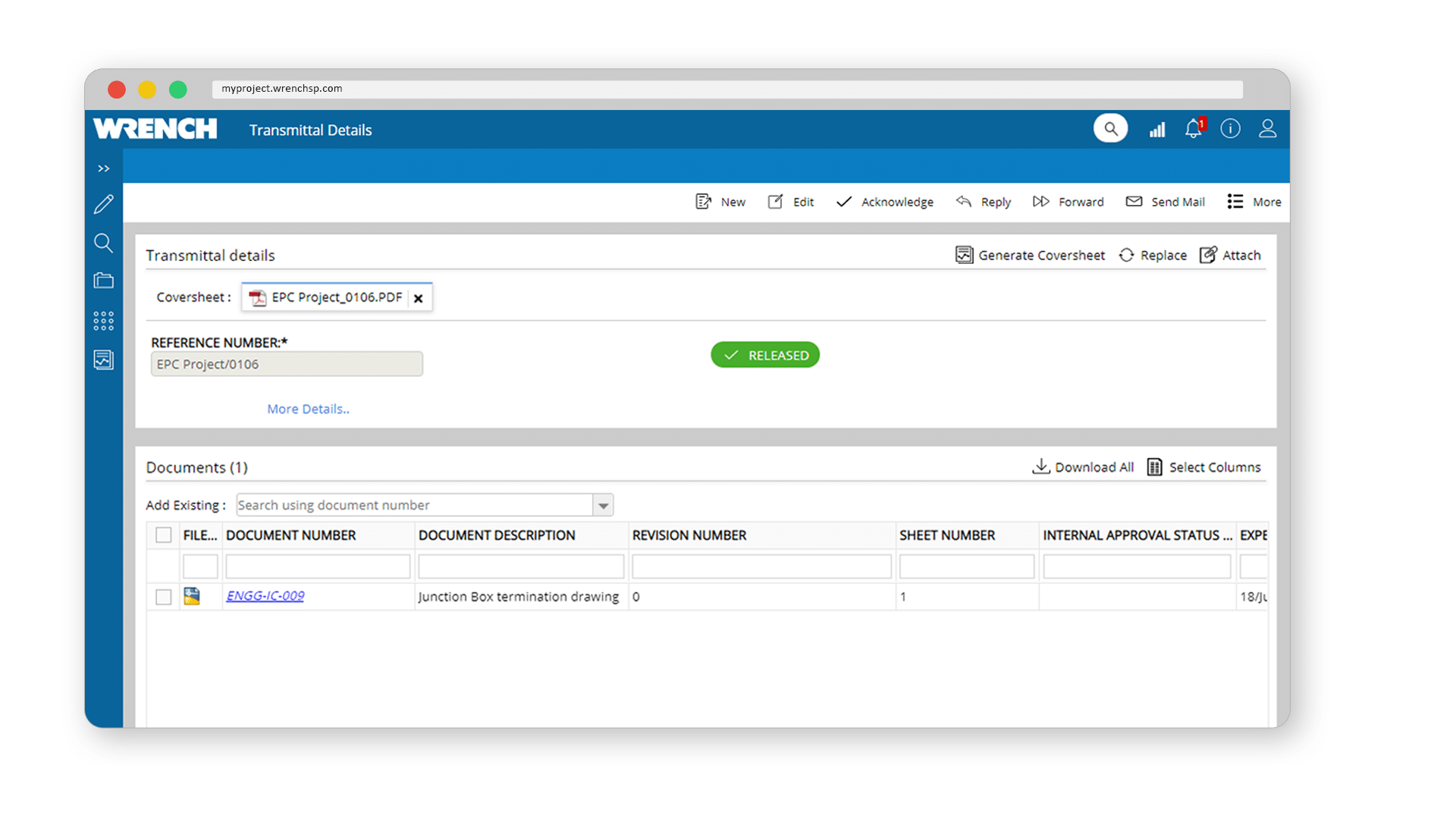 6. Dashboards and reports
What it is: Auto generation of document-based dashboards and reports
Why you need it: Dashboards and reports provide managers an objective measure of the progress of work and so the data in the dashboards and reports needs to be accurate and up-to-date. Without an EDMS, collecting this data, verifying it, and compiling it into the required format is both difficult and time-consuming, and not always accurate.
Example: Andy (project manager) wants to know the progress of the documents on which his team has been working. He opens the EDMS and can see online, in the system, the consolidated and real-time information on the exact status of each task and activity and team.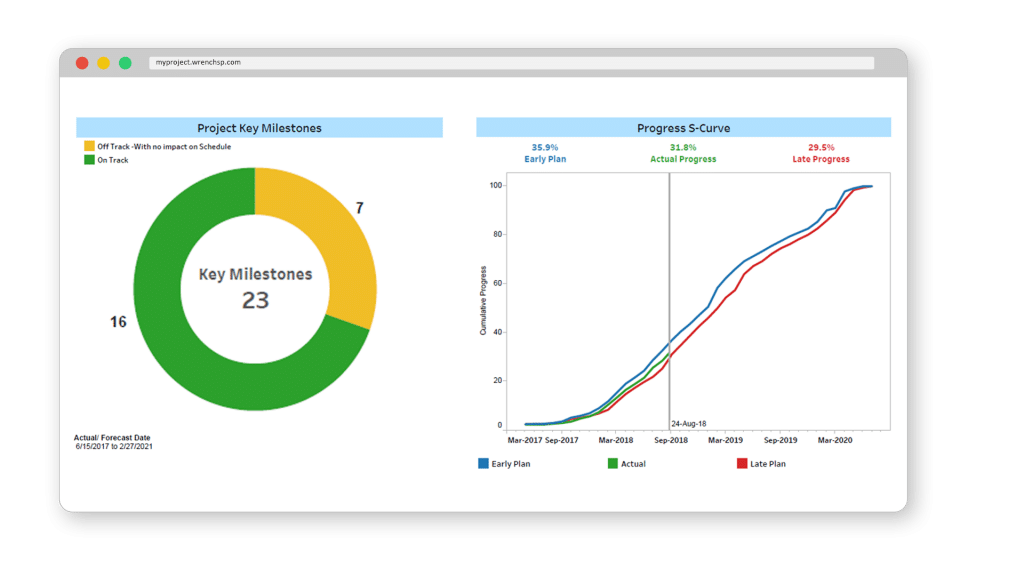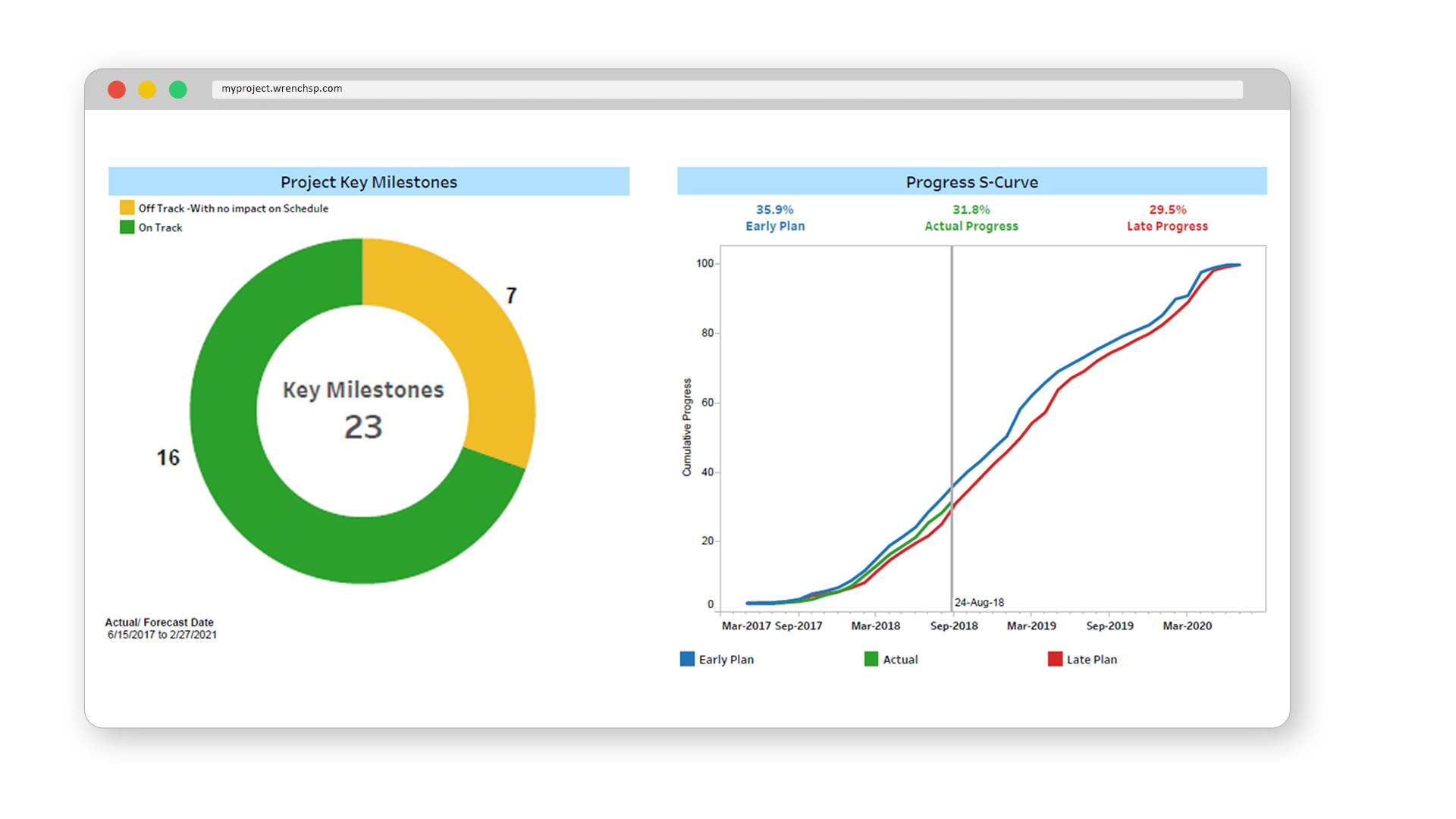 7. Correspondence management
What it is: Handling incoming and outgoing correspondence and monitoring correspondence status.
Why you need it: Construction projects generate a lot of correspondence about design instructions, RFI's, transmittals etc. Managing this correspondence through email and phone calls is inefficient and bottlenecks are common, like delays in searching/finding a specific piece of correspondence, correspondence that gets overlooked and stays 'unapproved', pending correspondence that needs to be sent to the stakeholders, and so on. An EDMS makes dealing with clients & contractors much easier because it streamlines all correspondence and documentation lifecycles.
Example: Andy (project manager) has a question about a design specification from the architect. In the EDMS, he simply opens his email, links it to the drawing in question and sends to the architect. But because it was sent from the EDMS, as laid out in the company's procedure the email + drawing first goes to Marcus (project head) where it joins the queue for approval. Once Marcus approves the correspondence it moves to the architect's mailbox. Later, if Marcus wants to check on the status of the correspondence trails, he simply opens the dashboard from where he can drill down to the details.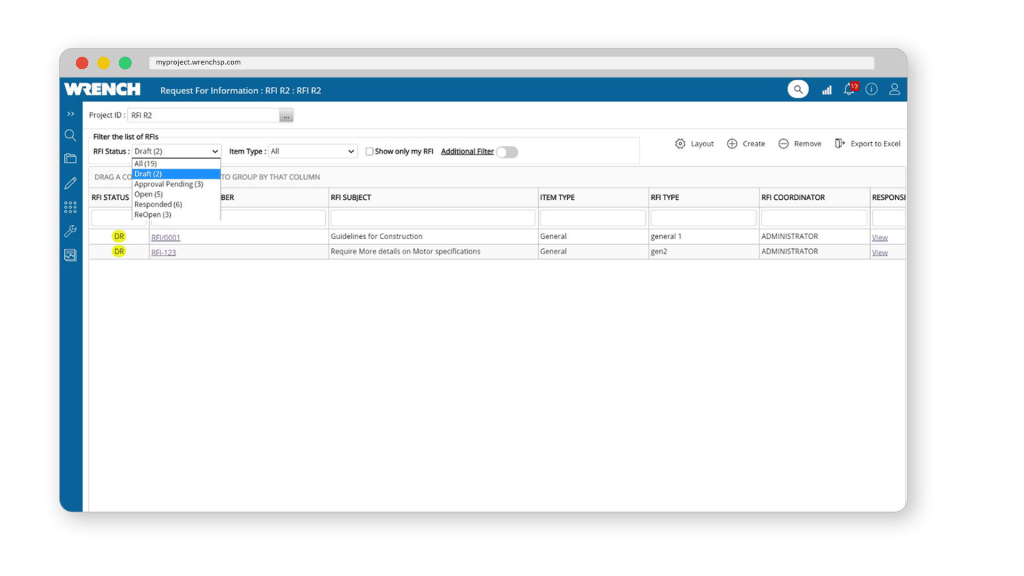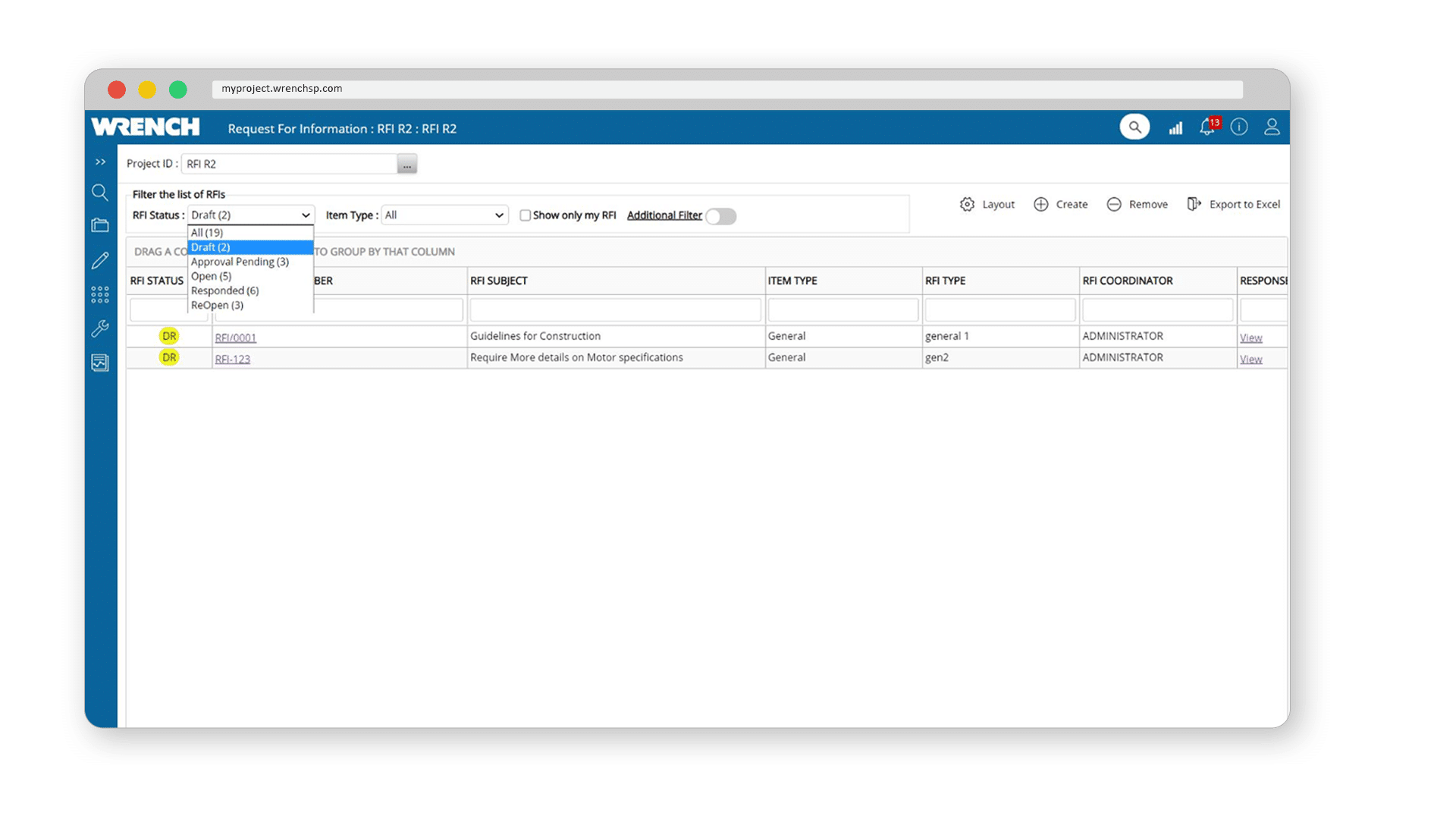 (*These features are not included in all EDMS but if you have them, they could have a big impact on your project delivery outcomes.)
About SmartProject:
Wrench SmartProject is an integrated document management platform for organizations engaged in engineering and construction projects including owners, contractors, designers and consultants.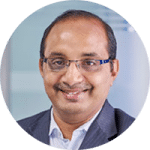 Author
Varghese Daniel
Varghese Daniel is the co-founder and CEO of Wrench Solutions.
Related Posts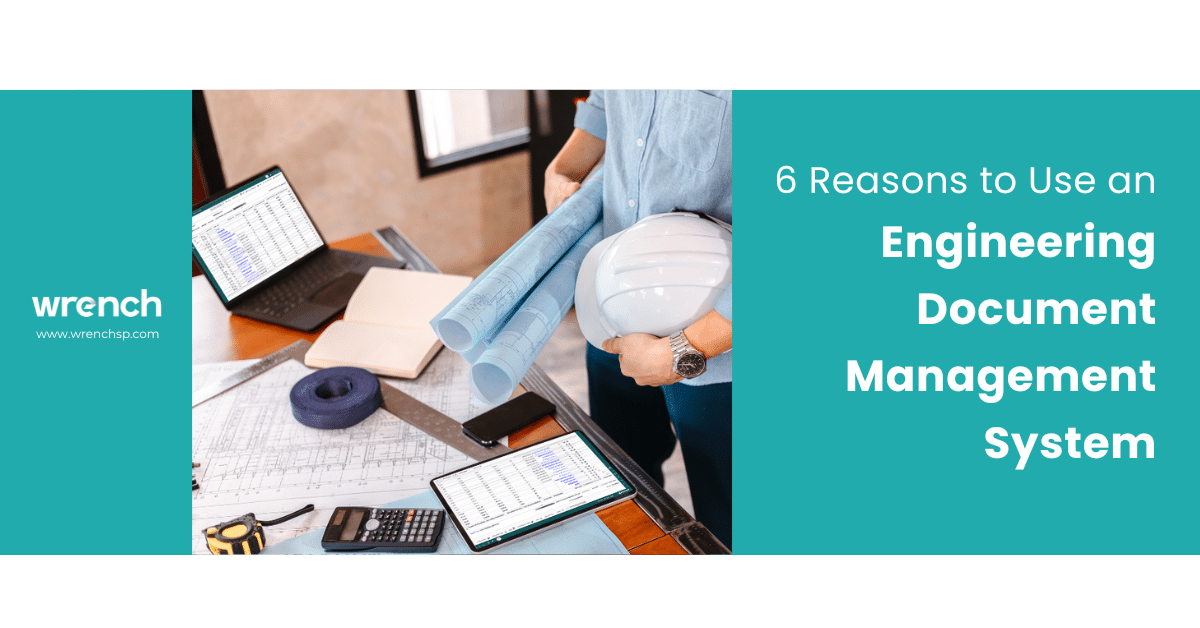 Over the last few years, the way we manage engineering documents has changed. EPC organizations are coming to rely on cloud-based document management software systems rather than human expertise in the hope that digital technology…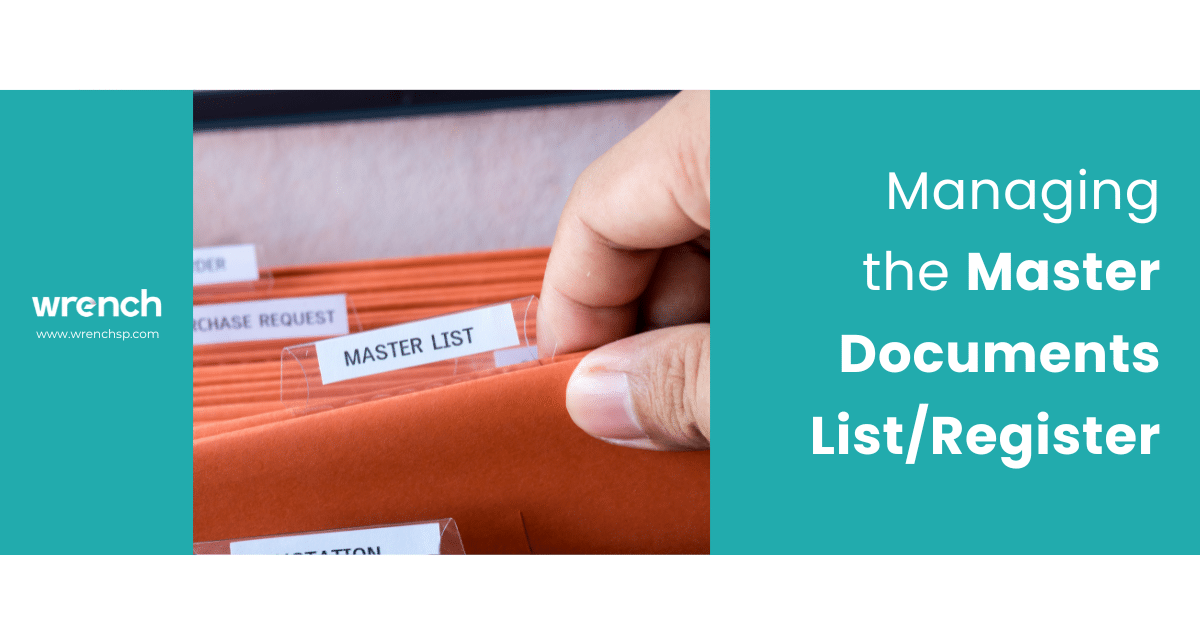 Anyone who's worked on an engineering or construction project is familiar with the Master Document List or MDL (sometimes called a Master Document Register (MDR) or Master Deliverable Register.) As the name suggests, it is…
Featured Posts



Subscribe to Our Blog
Sign up for our regular updates on project productivity, delivered straight to your inbox